The Light By Which We See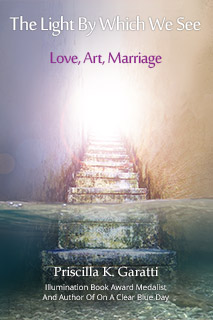 Excerpt:
April 2009
Barcelona, Spain
People envied me traveling to Europe. I understood their thinking. People usually associated flying overseas with sipping espresso in a hidden alcove overlooking the Mediterranean. What they didn't realize was that most times Europeans approached an espresso bar, ordered their coffee and drank the strong, black elixir in two swift gulps—while standing. No sipping—no time for contemplation.
That is how, in my mind at least, I defined the trips to Europe with Giovanni. There was limited time for pauses. No semicolons. Once again, I sat at the Charleston airport waiting for a flight to New York. From there we would bridge the Atlantic and arrive in Barcelona for several days before rendezvousing with the family in Cremona. Always there were conflicting feelings— excitement and anxiety. I looked out the window as we flew off and up into the air, the sky like blue acreage.
Barcelona was a relaxed city. It almost seemed to me that everyone was on valium—even the dogs. A Chihuahua sat under a palm tree one sunny day and looked at me, his brown eyes glistening and sleepy. But even in that temperate jewel of a city, I felt slightly agitated. I couldn't relax. I did not know what was wrong with me. Giovanni found an incredible deal at a luxury hotel. We stayed on the sixteenth floor, and when I looked out 73 our window, mountains rose to my left and to my right lay the Balearic Sea—a cord of sapphire.
I began to fret inside. I had vague clues of what hid underneath the layers. I'd always lived with a faint sensation of "less-than." I remembered how the feeling clung to me, even as a child—like gauzy spider webs that I could never quite strip from between my fingers, from the creases underneath my neck. I learned early to compare myself with other people, and in my mind, I never measured up. For as long as I could remember, I'd been dissatisfied with how I looked.
I believed I would never be one of the beautiful people, who didn't have to try. Mason had not been able to accept my incongruent beauty. I had a good figure and white teeth, but my hair would never behave the same way twice, and my skin couldn't be counted on to stay clear. I had an alarming amount of hair on my arms. In fact, Mason said to me once that he wished he'd been able to marry a beautiful person, like his brothers had. On the one hand, I could understand his comment, as his sisters-in-law had that kind of beauty that transcended campouts and flight layovers. Their skin continued to glow with no make up, and they awakened with no bedhead. I could look like an entirely different person without make up. Someone scary. But I still hated that he'd made that comment out loud, for releasing those words into the air.
Giovanni didn't do things like that. He was one of the beautiful people. Every time we went somewhere, I couldn't quite believe that this green-eyed man with the slight gray in his temples belonged to me. If he had been a bit more muscular, he could pass for a soap opera star. And when he wore a black shirt and jeans, and I maintained my beauty routine, we made an attractive couple. But the fact that made me feel like I'd won the lottery was that Giovanni didn't care about any of the external things. He liked me always, with toes polished and highlights in my hair, or disheveled and smelling slightly sweaty after a workout. He liked all my good and not so good passages in and out of beautiful